IN FINNISH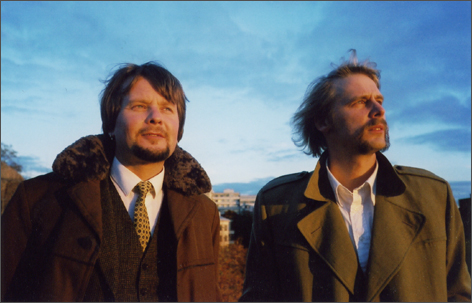 The coolest band in Scandinavia! Organ and drums, what more do you need?! Good songs, of course - and they've got it all.
Cool isn't what it used to be.

Nowadays everyone just tries to be cool, hardly ever succeeding at it. The thing is that if you are truly cool, you don't need to try.

Nieminen & Litmanen don't try. They are COOL.

This duo with only Hammond organs and drums, have just released their long awaited debut album, filled with music that they call Scandinavian Action Jazz. Their music is very hard to categorise but it's definitely Scandinavian, it's Action and it surely is Jazz. But there's a lot more to it, have a listen and you'll understand.

Here's a conversation, overheard by one of our secret agents:
"So, are the songs jazz?"
- Sort of, but not really.
"Well, are they rock?"
- In a way, but not really.
"Is it boogaloo, then?"
- A little, but not really.
"They must sing?"
- Actually, no. It's instrumental music.
"Well, what hell are they like?"
- They call their music Scandinavian Action Jazz. And the more you think about it, the more sense it makes. That's what it is - Scandinavian Action Jazz.


NEW ALBUM OUT IN 15.2.2006! STAY TUNED.

Website: www.nieminenlitmanen.com
For interviews contact: Nina Nurminen
Photos here
Booking: Rock-toimisto Siniset sienet
Contact the band: click here